What Is Plant Based Believer?
A 122 Day (4 month) by day journey towards plant based results in your own life. It includes:
Daily Science Inspiration: Video's and articles that tackle the science of why plants work. Sprinkled in are videos on the practical steps to changing your thinking about food.
Daily Bible Meditation: A brief (9-15 minutes) written and podcast daily devotional inviting your mind and heart to embrace that Jehovah, the G-d of the Holy Bible — Creator of food — has good for you.
Weekly PBB Video: The 122 Day journey has some bumps we can anticipate as part of being human. The pre-recorded video is where you and I will dig into content together for inspiration and motivation.
Recipe Share: Access to recipes that are easy and get you started. There is a world of plant based recipes you can lookup online. We'll help you find those too.
Online: Join our Locals Community! Check in with others, share how it's going, ask questions. Be cheered on and cheer on others. We also introduce a few other mobile applications through the program that are helpful to keep progress moving forward.
Who Benefits
Plant Based Believer focuses on eating more plants. No matter where you are today in the dietary landscape, eating more plants is health promoting.
How far you take your personal choice usually depends on your current health and goals. Generally our community consists of people learning a vegan or vegetarian diet.

Social sharing is focused on whole food, plant based: nuts/seeds, veg, fruit, grains.
Why
Daily meditations and links to medical education awaits to support your mind, body and spirit through the transformation journey of diet change.
Life is more than food.
Changing your diet brings up so more than just food.
This community and content walks along side to overcome what will rise up to get in your way.
How
Start at Day 00 on any given day. Listen to the Daily Podcast on a variety of podcast platforms or read the daily devo. Check out our private locals community. Whatever is helpful for your journey.
Format
The devotionals are meditative in style and written from the perspective of God's heart speaking to you. The podcast version includes music inviting you into private reflection.
Encouraging Your Spirit – A paragraph to help you listen to a loving and supportive God breathed perspective. God is for you.
Bible Wisdom – This ancient writing of 66 letters by 40 different authors across 1,500 years tells a unified story of a God who loves people and breaks into history over and over to restore and heal. It's not always a pretty picture as life and human choices unfold. Life then — as now — is messy. But God intention remains intact to reveal the Creator and truest Lover of people's souls.
To learn more about God's love letter to you: History of the Bible, Global Influence. To dig a little deeper, check out "30 Days" an overview in 15 minutes a day of the Bible cover to cover in 30 days.
Prayer – To inspire plain talk as a starting point between you and God.
Encouraging Your Journey – Links to dietary and biological scientific study and research findings presented by medical and dietary experts. This content is additional to the daily meditation to help your mind and resolve. It contains solid health information that truly works. May it be a voice of calm truth as it has presorting out a mountain of disinformation on the internet.
Access
Devotionals are available via email notification sent your way to sign into Plant Based Believer member log-in to access content. The devotionals are also available on podcast (Apple, Spotify, Anchor.fm, Pocketcasts, Google, RadioPublic).
The print and Kindle versions are available at Amazon: Volume 1 and Volume 2 covering the first 85 days of the journey. They have additional space to write reflective thoughts on how your mind, body and spirit is processing the information, capturing in journal format your journey in your own words.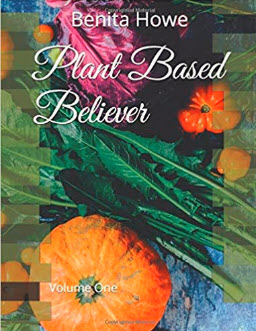 Connect: Don't Go It Alone
Join the Community: Bigger tech social media manages what you see and don't see. We found that the our community was getting drowned out. Folks who are members of our Page and Group on social aren't seeing communications. Sad and we miss you. So we've gone local. Check out our locals group here. It's private. No spam. Has an app and is all about connecting in community.
What Plant Based Believer is Not
Medical advise, political or religious debate.
Plant Based Doctor Org offers a free global referral service to help you find a plant based doctor in your area.
For recipes that are not mine, I'll site the source where you can download if the author has made it available for free or the site where you can purchase the specific measurements. Giving honor where it's due and respecting copyright law is aligned with good character.
This sites purpose is to encourage and prompt your engagement with the Almighty. I believe in the God of the Holy Bible. I've experienced God's good intervention, healing, provision and direction that has lead me to greater self awareness and love. God is actively and personally calling people to engage. Responses that deflect from this sites purpose are subject to deletion.