Free recipe. If you like chocolate, these cookies are probably not for you. These are a chocolate lovers type of chocolate cookie.
Super rich without any of the guilt. These little bites give you a big ole chocolate hello, followed by coffee tease and finish slightly tart. Amazingly good. A little crisp on the outside, fudgy goodness on the inside. No salt. No sugar. No oil.
Perfect with a little cup of coffee hot or cold. One or two of these is all you'll need. They pop with goodness while eating whole food, plant based. Not an everyday treat but when the occasion calls (hello friends or family, come on by), these are fabulous.
Ingredients
10 dates, pitted (soaked 10 minutes in hot water, drain water)
1 med apple, cubed & seeds removed. Don't peel. (1 C apple sauce can be substituted, sugar free)
4 tsp apple cider vinegar
1 Tbsp coffee granules (Decaf or Regular, your choice)
1 Tbsp lemon juice concentrate (or zest of 2 lemons)
1.5 Cups Whole rolled oats
1 C Oat Flour (whole grain)
6 Tbsp natural cocoa powder
1 tsp vanilla powder
1/2 tsp baking soda
1 Cup Vegan chocolate chips (dark)
Tip: Want to reduce the calories? The calories in this recipe are coming from the chips. I know. I know. If your in weight loss mode, I recommend reducing the chocolate chips to 1/4 or 1/2 a cup. You'll still get chocolate goodness but with less decadence. The recipe "as is" with 1 C Choc Chips is ~60 calories for a 1″ cookie.
Directions:
Ready the dates by cutting in half to remove the pit and hard cap where it attached to the branch. Soak in hot water for 10 minutes.
While the dates soak, put the following into your blender or food processor: prep your favorite variety of apple. Almost any apple will do; however I don't prefer Red Apples (too sweet) or Green (too tart) for these cookies. Remove the seeds from your apple and cut into cubes. No need to peel the apple. Add apple cider vinegar, coffee and lemon juice or zest. Pulse until almost paste. Drain dates well and add. Blend until a paste.
In separate bowl combine, whole rolled oats, oat flour, cocoa powder, vanilla powder and baking soda. Mix well. Add chocolate chips and stir by hand to distribute through dry mix.
Fold wet paste into dry ingredients. I use my standing mixer for the dry ingredients which makes the mixing go very quickly in under a minute in total.
Form into spoon sized balls smaller than a golf ball. They will not spread when baked so it's fine to have them be a bit closer. Place on a silicone lined cookie sheet. Gently press down with a fork so that all cookies are the same height.
Bake 35 minutes at 275 degrees Fahrenheit then remove. Do not over bake. Place on cooling rack after about 10 minutes.
Cookies are soft on the inside and crispy on the outside. Wonderful with a cup of decaf coffee.
Makes two standard cookie sheets of cookies, about 44 cookies.
Let cool. Freezes well. Enjoy!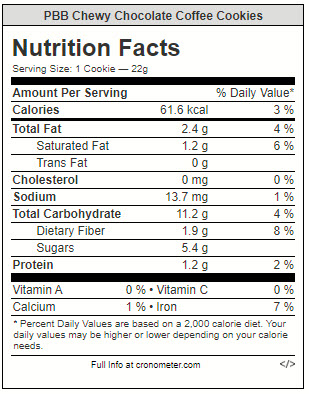 Let me know how you like this recipe on social! Links below! Feel free to make it even better and share changes you make!
With love from the garden, – Plant Based Believer