Hello!
My name is Benita and I facilitate the Plant Based Believer group at VC. Here's my story and lab results. More about physical results I've experienced below.
What Is this Group About?
Physical healing by eating more plants over 17 weeks. We connect for inspiration from plant based scientist, nutritionist and doctors. We experiment and share recipes. We invite God into our food lives. We encourage and pray.
In this group, you'll learn about food and brain science. You'll learn how to let go of processed foods. You'll learn how your arteries react to animal protein. You'll be fully equipped to choose good food for yourself.
Each persons plant based adherence is their choice. No shame just education and encouragement. You'll learn that you are not destined to feel old, sick and tired. God works in the miraculous and also uses plants.
How does the Group Connect? Virtually
Until Governmental and Vineyard Leadership gives the all clear to meet together without a mask, we'll be connecting virtually.
Receive a daily free devotional email inviting God into your food life. The devo includes medical science to help equip your resolve. Sign Up For DAILY CLUB for FREE using this code specifically for VCNP: 0D-BB3C82F441
Watch 17 weekly video's – available every Tuesday on Youtube.
In January 2021, I hope to return for a Small Group gathering at VCNP.
Health Improvements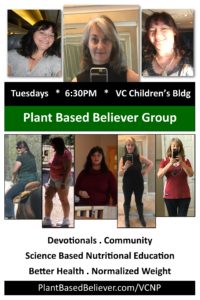 God has gently walked me through a journey of scientific and experiential discovery that plant based eating supports healing. God can instantly heal. In my case, he's used plants and a continued reliance for results. Health benefits I've personally experienced on the plant based journey:
Pre-diabetes gone. Labs are normal.
Satisfied. No longer hungry and food isn't the center of thoughts during the day.
Swelling in ankles and feet (edema) gone.
Foot and knee pain, gone.
Brain fog, gone.
Seasonal cold, sore throat, nasal issues, gone.
RA and biological medications (Simponi, Actemra) eliminated or lowered.
Gentle weight loss of ~77 pounds without excessive exercise.
Thank you God … plants work.
These results are not unique to me. These results have been achieved by thousands of people. These results and many more can be yours!
Getting Started
1). Get the daily meditation. It's loaded with soulful encouragement and adds scientific researched insights and how to recipes for living out a plant based life. Sign Up For DAILY CLUB for FREE using this code specifically for VCNP: 0D-BB3C82F441
2). Watch Weekly each Tuesday on Youtube.
3). Connect with others via Facebook! https://www.facebook.com/groups/plantbasedbeliever
Looking Ahead: January 2021
The Phoenix based group will start a new co-hort in January 2021 meeting at Vineyard North Phoenix in Glendale, Arizona. Watch VCNP Small Groups for the sign-up in December 2020.
God bless. God heals … and one of the gifts He works through is plants.
Blessings,
Benita
PS. Questions? Contact me at https://plantbasedbeliever.com or through messaging VCNP.
Medical Disclaimer: This group is not a replacement for actively engaging your medical provider. I encourage you to have blood labs as you start on your plant based journey. It demonstrates the bodies internal response and confirm physical changes seen. Communicating with your doctor will help him/her adjust or reduce medications proactively which is extremely important.